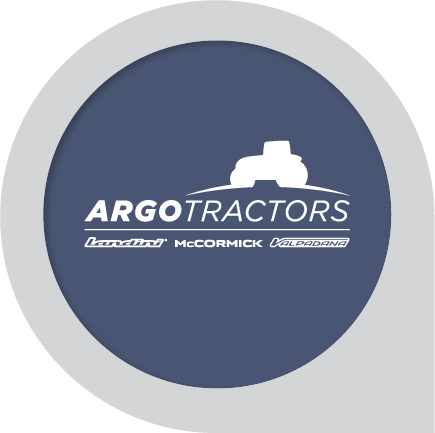 Our History
Argo Tractors is an important industrial Group family owned that designs, produces and markets tractors, services and parts worldwide, which encompass a technological portfolio of brands that have set important milestones in agricultural mechanization.
Discover the most significant milestones of one of the most important industrial Group in the sector.
1988
Founding of the Argo company
The brothers Valerio and Pierangelo Morra set up the company Argo SpA with the aim of becoming an industrial holding and service provider for Group companies. In the same year Argo acquired the company Fort of Luzzara (Reggio Emilia), active in the production of agricultural machinery.
1994
Acquisition of Landini SpA
Argo acquires Landini SpA, a historic tractor company based in Fabbrico (RE).
1995
Acquisition of Valpadana SpA
Valpadana SpA of S.Martino in Rio (RE)
is acquired, a well-known manufacturer of specialised low and medium horsepower tractors.
2000
Acquisition of Laverda SpA
The Argo Group acquires Laverda SpA of Breganze (VI), a historic Italian company, internationally renowned, entering the sector of combine harvesters.
That same year it also acquires the company S.E.P., a well-known brand in the market of small agricultural machines.
2001
Acquisition of McCormick
With a view to expanding its international presence, the Group acquires the historic McCormick brand together with its tractor production plantsin England (Doncaster) and driveline plants in France (St. Dizier)
2004
Acquisition of Fella-Werke Gmbh & Co. KG
Consistent with its mission of international growth, through its subsidiary Laverda SpA, the Argo Group acquires Fella-Werke Gmbh & Co. KG and its related commercial and industrial activities.
2005
Acquisition of 50% of Gallignani SpA
Through its subsidiary Laverda, Argo
acquires 50% of the capital of Gallignani SpA, a leading company in the grass harvest sector.
2007
New Joint Venture
The group strengthens its harvesting business by establishing a joint venture with Agco Corporation, in partnership with Laverda.
2007
Founding of Argo Tractors SpA
In October, Landini and McCormick
are merged into a single business: Argo Tractors SpA.
At the same time the assembly of McCormick tractors moves from Doncaster (UK) to Fabbrico (RE – Italy).